We export to Australia New Zealand Europe Canada
Japan Campers are the largest direct exporter of Japanese campers and motorhomes to customers worldwide. We have all the models at great prices both 2wd and 4wd versions with either diesel or petrol. Please visit our website regularly for updates. No one sells at better prices than Japan campers. If we don't have what you're looking for at the price you want then it doesn't exist. We export to all countries. Please check back often as this website is updated on a regular basis. If what you are looking for is not here then contact us as we have over 120 units in stock or can find what you are looking for in your budget range.
AUSTRALIA
Brisbane 07 3040 6608 Sydney 02 4017 0470 Perth 08 6102 4441
Japanrvs@mail.com
Available now One owner Zill model 2wd 4 berth Auto diesel. Stock # ZILLMY1

New arrival in Brisbane. One owner Toyota Camroad 2wd Zill model. Perfect for single person or couple Auto diesel aircon awning power windows central locking solar gps very Spacious and easy to drive on car license Smooth and economical toilet shower lots of storage reversing camera with monitor. Click on photos below for a full-screen view of the above unit. Click HERE for enquiry and price
4wd 2004 Leo model Toyota Camroad Stock # 2004leo4wd
4 WD Turbo Diesel Automatic Toyota Camroad zilll Stock # turbo4wdZill Hurrry this unit will sell fast
We have many 2wd and 4wd versions of the super popular Toyota Camroad in stock now.
Click HERE if you are interested inthe above unit 4 WD Turbo Diesel Automatic Toyota Camroad zilll Stock # turbo4wdZill
Turbo deisel 200 series 2w/4wd Toyota Camroad Zill models - Contact us now about these go anywhere midsize motorhomes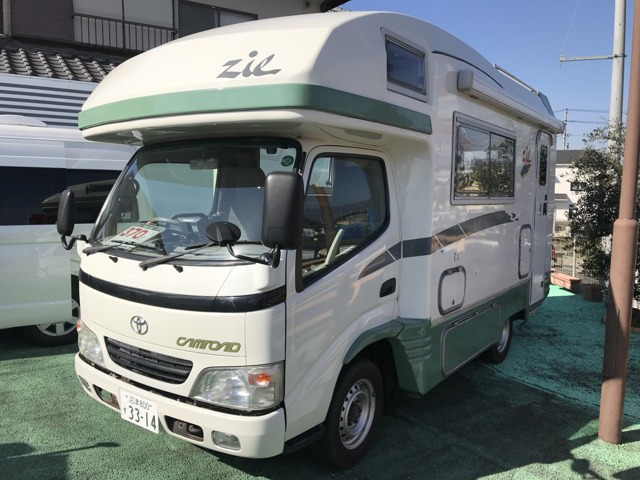 2wd/4wd Motorhomes
The beautifully equipped mid size Toyota Camroad motorhomes have everything needed for a comfortable driving experience available in Diesel and petrol.
The Toyota Camroad mid size motor homes come with either 2wd or 4wd and 3 litre diesel engines and automatic transmission with overdrive for power and great fuel economy.The 4wd versions come with on demand 4wd at the push of a button.
All units are equipped with Auto trans toilet and shower,Hot water service and sleep a minimum of 4 persons,Models available in all Price ranges.
The Toyota Camroad cab-chassis is a special chassis type of the Dyna series Toyota to developed for conversion into motor homes.The Toyota Camroad is far superior to other midsize motorhomes as the Toyota Camroad has a one piece roof and is light and can cruise at 100 kmh at 2400 rpm and 110 kmh at a low 2700 rpm for great fuel economy HERE for more information